I'm starting to get quite a lot of traffic on the blog now, so it's probably time to tell you a bit about the person behind Herb & Hedgerow. I recently joined a great networking group for female entrepreneurs and was challenged to write 20 things you didn't know about me, so my readers would find out a bit more about me. So without further ado, here is my list of 20…
1. I am bilingual in Dutch and English. Although I sound English to talk to, I very much consider myself to be Dutch. I spent my formative years in the Netherlands and still frequently display the traditional Dutch tact of a sledgehammer.
2. I have two sons and haven't slept properly in 3+ years. We don't breed sleepers here. I have come to the realisation that every single parenting & sleep book I've ever read LIED TO ME. I am looking forward to the 2020s when I'll catch up on all my lost sleep.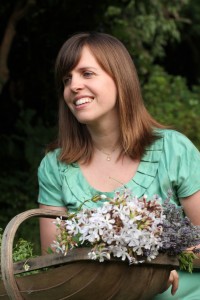 3. I have a BSc in Ecology with Biology, a MSc in Environmental Impact Assessment, Auditing & Management Systems and a diploma in Botanical Cosmetic Science. I can think of at least another 5 scientific degrees I'd like to do. One day I'd love to do a PhD in Ethnobotany. I'm a swot.
4. I love science and apply its principles to my business. Herbs contain thousands of chemical compounds which can be used for cosmetic and medicinal purposes. Unfortunately they are often lumped together with lots of vague airy-fairy unproven alternative therapies, which really annoys me.
5. By the time I turned 25, I had lived, worked and/or studied in the Netherlands, the UK, Australia, the USA and the Russian Federation. I have traveled around the world and one day, hope to do the same with my boys.
6. I met my (English) partner in the Russian Far East nine years ago. I walked into his work cubicle, was introduced to him and that was that. We've been together ever since.
7. Hobbies I've had in the past include roller disco skating, line dancing, astronomy and karate. If I had more time, I'd still do all of them and more.
8. My very first job involved working in the petrol station near to our home in Holland. For one of my first duties they handed me some gloves, a bucket and a sponge and told me to go clean the men's urinals out back. The supervisor told me to look out for needles as we were on the main drug smuggling route from Holland to Belgium. I didn't go back the next day.
9. I play classical piano and electric guitar. I love playing music and look forward to a day that I'm allowed to play more than "Old MacDonald had a Farm" and "the Wheels on the Bus".
10 .I spent four months trapping 50,000 beetles on an ecological research project in the Atherton Tablelands in Queensland, Australia. We were looking at the effects of rainforest reforestation projects and measuring ecosystem health by looking at beetle populations. We did this by setting up traps made of nets and ice cream containers with little rain hoods.
11. I've talked about setting up Herb & Hedgerow for the last six years and am so pleased that I've finally done it. We once spent a week-long holiday in Japan listing every single herbal cosmetic, food and household product I could make. I still have that list.
12. I worked in the international energy industry for the last decade. I spent 3 years working on Sakhalin Island in the Russian Far East (just to the north of Japan) on the world's largest oil and gas infrastructure project. Now when I'm not running Herb & Hedgerow and running after two small children, I design, plan and project manage renewable energy projects and work as an environmental scientist in the UK. Not a day goes by that I'm not amazed by the astounding ignorance displayed by the general public when it comes to their energy supply.
13. Despite working in renewables for the last 6 years, I still struggle to deal with the viciousness displayed by communities around wind farm projects. Only recently a horrible woman told me she 'wished me ill' because my employer was proposing to build one single turbine near to her house. I stood infront of her, six months pregnant, when she made this statement. She made me cry as all I could think about was this tiny innocent baby inside of me and how this awful person had told me they wished bad things to happen to both of us.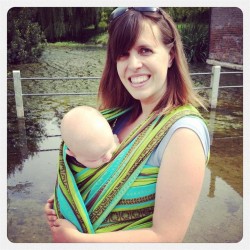 14. I am a strong advocate of all things to do with attachment parenting. I breastfeed beyond two years, I wear my children in a woven wrap or sling and I do not leave them to cry. I thankfully have the confidence to tell people to bog off when they suggest otherwise.
15. I had a blog when I was in my early 20s. I wrote about my life interspersed with environmental and political ranting. It attracted quite a following at the time but it also attracted some unwanted attention. Despite never having mentioned my employer and never talking about work, a disgruntled former employee scanned my photos, figured out who I worked for (a major multinational oil & gas company) and then sent my blog to the CEO with a message saying "how dare you employ such a raving eco-warrior when you got rid of me!" (he clearly had issues). I didn't get into any trouble but I deleted my blog soon after. I then started receiving e-mails from people I'd never heard of before telling me they loved me. Be careful what you blog about.
16. I hardly wear make-up and honestly, for the life of me, do not understand why people wear foundation. It seems so ridiculous to knowingly clog up your pores like that, particularly as I think it makes some women's faces look really hairy.
17. The natural skincare movement seems to attract lots of raw vegans. I'm not one of them. I eat a healthy, balanced diet which contains meat, fish, veg, fruit, pulses, dairy, wheat and lots and lots and LOTS of chocolate. I have great skin.
18. I never climbed a mountain until I was 25. Having grown up in a country that is as flat as a pancake, I had never experienced such excruciating mental anguish before. My partner had to talk me up the mountain.
19 .I am a closet (no longer!) Country & Western music fan. My car is filled with CDs by Keith Urban, Rascal Flatts, Carrie Underwood, the Eagles and SheDaisy. I sing along loudly to them.
20. I love hedgerows and spend a lot of my time peering into them, identifying plants and foraging for leaves, blossom, hips and berries.