This blog post is the first part of a series I'm writing on cosmeceuticals and their biologically active plant-derived ingredients. I already covered what a cosmeceutical is in a previous article so now it's time to look at our first botanical compound – Allantoin.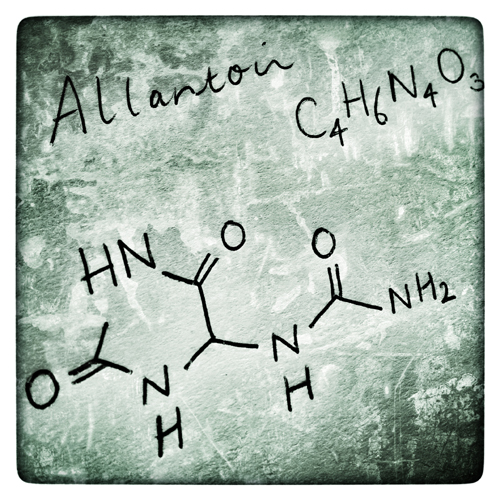 You may have seen allantoin mentioned on the labels of your skincare products. It's a popular anti-ageing ingredient used in all sorts of skincare products, including creams, moisturisers, lotions, toothpastes, mouth wash, baby products and sun screens. To give you an idea of just how popular it is, allantoin is currently referenced in over 10,000 patents. But what exactly is this ingredient?
Allantoin – the Basics
Allantoin is a chemical compound that is also known as 5-ureidohydantoin or glyoxyldiureide. Catchy eh? It is named allantoin after the allantois, which is a sac attached to most vertebrate embryos apart from fish and amphibians. The allantois stores all foetal excretions, which explains the name of this cosmeceutical, as allantoin is created during the oxidation of uric acid. Allantoin is non-allergenic, non-toxic, odourless and completely safe for use. It's sold as a fine white crystalline powder which dissolves in water or alcohol.
How is it made?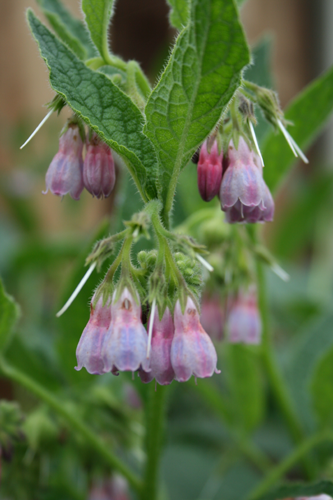 Allantoin is present in plants and mammals. Its main botanical extract comes from comfrey (Symphytum officinale) although it is also found in tobacco seed, chamomile, and wheat sprouts. If it's the animal version you seek then it's present in most mammals' urine. However, most allantoin is synthetically made and is apparently identical to the natural version – i.e. completely safe. It's probably a good thing that we're not all applying urine to our skin on a daily basis, although that would still be a lot better than some of the animal by-products used in our cosmetics.
What does it do?
Given the use of allantoin in over 10,000 patents, it's safe to say that this little cosmeceutical ingredient has some great skincare powers. Allantoin is used to treat wounds, ulcers, burns, sunburns, eczema, psoriasis, impetigo, and acne and other skin eruptions.
As if that wasn't enough, allantoin also works as an antioxidant, encourages the generation of new cells and speeds up the shedding of dead skin cells (Thornfeldt, 2005). In fact, one of the reasons that maggots have such a beneficial effect on the healing of infected wounds is thought to be because they excrete allantoin (Gruss et al., 1978).
Various studies have shown that allantoin in combination with onion extract is successful at treating scars. At least one study has shown that allantoin protects against UV-induced cell damage (Zasshi, 1998). All of these skincare properties mean that allantoin is a great anti-ageing cosmeceutical.
But wait! That is not all. Allantoin is amphoteric, which means it can react as an acid as well as a base. This means that allantoin can combine with various chemical substances – essentially neutralising them – which is thought to avoid potential irritation caused by other ingredients. Allantoin is great for use in products for sensitive skin.
The final verdict?
What a brilliant cosmeceutical ingredient. Next time you need a new anti-ageing natural skincare product, look for allantoin.
References and Further Reading
Gruss, J.S. and Jirsch, D.W., 1978. Human amniotic membrane: a versatile wound dressing. CMA Journal, Vol 118: 1237-1246.
Hills, L. 2008 Comfrey: Past, Present and Future
Thornfeldt, C. 2005. Cosmeceuticals containing Herbs: Fact, Fiction and Future. Dermatol Surg 2005; 31: 873-880.
Zasshi, Y. 1998. Inhibitory effects of shimotsu-to, a traditional Chinese herbal prescription, on ultraviolet radiation-induced cell damage and prostaglandin E2 release in cultured Swiss 3T3 cells (article in Japanese). 118(6):241-7