I'm delighted to announce that I'll be regularly guest blogging over at Miss Eco Glam, an online magazine that combines beauty, fashion and sustainability.
Miss Eco Glam regularly publishes articles on incorporating an eco awareness into our everyday beauty, fashion and lifestyle. Its ethos is that we can be both glamorous and sustainable by being informed about the environmental, social and ethical issues behind our consumer habits. It's not that hard to start making a change and its not as expensive as you think. We don't need half the stuff with which we clutter our homes and lives! Miss Eco Glam promotes content to help its readers make better choices and buy better quality things that will last.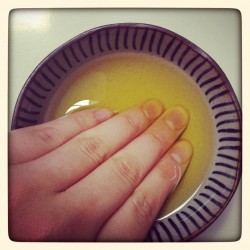 I'll be chipping in once a month with DIY beauty, herbal skincare and general environmental info, so be sure to stop by occasionally. If you 'like' Herb & Hedgerow's Facebook page or follow Herb & Hedgerow on Twitter I'll keep you in the loop with latest articles.
My first article at Miss Eco Glam is a DIY Nail & Cuticle Oil that you can easily make at home with natural beauty ingredients. We rarely take the time to look after our nails and even if you do have regular manicures or use nail polish, you might actually be doing your nails and cuticles a disservice. Come on over to Miss Eco Glam and find out how to make this simple Nail & Cuticle Oil recipe.