This article is slightly off topic given that the HerbBlurb blog typically looks at the science of plants and natural beauty, but I thought it might be interesting to look at BeautyCraft and how I launched this beauty app from the comfort of my sofa.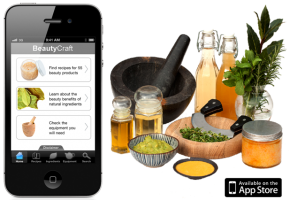 I was on maternity leave with my son and I was confined to the sofa for hours while feeding him. He fed and fed and fed… he never seemed to stop. So I couldn't move and all I had for entertainment was my iPhone. After a few months of playing with lots of different apps while my ravenous child quadrupled in size, it suddenly occurred to me that I could do this – I should launch an app!
A year later BeautyCraft went live in the App Store. BeautyCraft has now been downloaded in 50 countries around the world and has had some great reviews online and in print. I'm so pleased I did it as not only is it a product I am very proud of, it's also been a fantastic learning experience to build something from scratch and sell it globally. So here is my guide to launching an iOS app (which isn't a game) on a budget.
Come up with an idea – This probably sounds like a no-brainer, but you need to have an idea for something that would be genuinely interesting to users. You can't just put some text in an app, it has to serve a function.
Check the App Store – next you need to go and check the App Store. Does your app exist already? There are hundreds and hundreds of flashlight apps for iPhone (why???), so don't be tempted to design another one. Apparently 60% of the apps in the App Store have never been downloaded (that's a chilling statistic for any app developer) so you need to make sure you will at least have *some* unique content.
Prepare the content – you'll probably have some text and images in your app. In the case of BeautyCraft, it's an illustrated recipe book for DIY natural beauty recipes so it contains a lot of both. Write your text and prepare your images or photographs. Think about how you want to use your images in the app as this will guide how you prepare them. Think about your branding and how it all fits together in terms of colours, design, sizing when preparing the images.
Download free images if you need them – despite the fact that we took many of the app's images in-house, there came a point that we simply didn't have time to take all of them. Find yourself a good free image library, like stock.xchng or dreamstime.com. Make sure you read all the requirements for using their images – particularly when it comes to issues such as copyright and commercial use.
Think about the app structure – how will it work? Much like a website, think about the overall page hierarchy and structure. How do different pages interface with each other? What will they do? How do they link to each other? Look at apps you like and think about how they have structured their content – it should give you some ideas. .
Design your wireframes – you'll want to spend a fair bit of time on this stage. Check out this page on how to design your app's User Interface which I found very useful. I used a sketch pad and sat on that sofa for weeks drawing what I thought the app should look like. Eventually a friend suggested some wireframe design software called Justinmind and I downloaded a free 30-day trial so I could turn my sketches into actual images. Having only 30 days to finalise my designs also pushed me to get things done. I then saved the final images in lots of different formats so I could easily share them with people who didn't have the same software.
Search for a developer – unless you have some fantastic app programming skills of your own, you'll need someone to programme your app. By now you should have your content, your structure and your design finalised so you are ready to find someone to put it all together for you. I used Elance.com which I cannot praise highly enough. In order to find a developer, I wrote a scope of work setting out (a) who I was, (b) what my project was all about, (c) what I needed the developer to do, (d) the app page hierarchy & design, (e) my deliverables (i.e. content, images, initial design) and (f) the developer's deliverables – that meant there was no confusion about who was doing what.
Choose a developer – out of the 25+ developers I had bidding for the work, I now whittled them down to a short list. My criteria for doing so were the quality of their proposal, the overall price offered and the developer's previous track record in programming apps. I then thought about the four most important questions I wanted to ask them and asked the shortlisted developers to provide answers. Based on the quality of their final responses, I chose my preferred developer.
Agree your Terms & Conditions – Elance will help you with this by setting up agreed milestones after which your money will be released from Escrow. You can agree further Terms & Conditions with your developer. As a minimum I would recommend you try to negotiate a good period of free bug fixing after the app is uploaded to the App Store.
Find some money – Paying for a developer was the most costly part of the project. Up until now I'd only spent about £50 at Tesco buying supplies for my DIY recipe tests. Be prepared to spend upwards of $1000, although if you choose a programmer in the UK/US they could be quoting about 10-15 times more regardless of the complexity of your app. This is why you need Elance.com. Programmers there are generally a bit more reasonably priced as they are competing against each other for your work. Also, don't be put off by people warning you off programmers in other countries, you can judge the quality of your programmer for yourself by making sure you check their credentials properly. I chose a great developer in India called RedAlkemi and we worked well together.
Manage your project – now you need to manage your app development as you would any project – it needs to be delivered to an agreed timeframe, budget and specification. You will need to communicate regularly with your developer, preferably by phone or Skype as so much can be lost in translation over e-mail. Thankfully I work as a project director in my day job so this bit wasn't too challenging. One word of advice – this is your project, with deadlines, technical requirements and price specifications that you agree with your developer. It is your responsibility to make sure that your app is delivered to your specs. You can only do that through regular communication, preferably once a week at least.
Test, test… and test again – only you know what you want your app to look like. Don't rely on your developer to have the final say on how your app works and what it looks like – this is your call. You need to test every single aspect and every single screen in your app until you are completely satisfied that it works the way you want it to. There is a school of thought that recommends just submitting your app for approval and dealing with any glitches later. I don't subscribe to this school of thought! If you upload an app that doesn't work properly with the intention of fixing it later, then (if it gets through the app review process) in the meantime you are still trying to sell people an app that doesn't work properly. This can only lead to disgruntled customers and poor reviews. Don't do it.
Research keywords – you want your app to be found in the App Store so keywords are going to play an important part. If you are selling a DIY beauty app such as BeautyCraft, then it's obvious that the words 'beauty' and 'craft' should be in your list of keywords. You won't be able to change your keywords until you upload a newer version of your app in the future, so it's a good idea to spend some time getting this right. Do this by running lots of searches in the App Store to determine where you want your app to be found.
Choose your screenshots – have you ever looked at an app in the App Store that only had one screenshot and then decided not to buy it? Me too. I can't stand it when developers don't showcase their app. Choose at least 3 of your best screens and show them off with pride – it will only encourage people to download your app.
Design an icon – your icon will be the first thing people see in the App Store. It's a good idea to try and make this as memorable as possible. Also, try to make the icon relevant to your app. You obviously don't want to show off a picture of a bear if your app is for the latest train times.
Decide your pricing structure – is your app free or will you charge people for downloads? If it's free, think about advertising to generate revenue. If you want to charge for downloads, you'll need to fit your app into a particular download band. Tier 1 is $0.99, Tier 2 is $1.99 and so on in increments of $1 (until you hit $49.99 in Tier 50). This goes all the way up to Tier 87 which is $999.99. If you ever manage to sell an app for that price (and kudos to you if you do!), you get $700.00 of the proceeds.
Set up your developer account with Apple – this took a bit of time as I had to verify my company with Apple … BY FAX. Yes, that bit took me by surprise too. You'll also need to pay Apple $99 a year to sell apps in the App Store.
Upload your app to Apple – now comes the nerve-wracking bit. Will your app get approval from Apple? It can take around a week to get your app reviewed and hopefully, approved. Understandable really, as Apple receives many, many app submissions. As long as your app is your own work, doesn't break any rules or laws and isn't riddled with bugs, you should be OK. I spent that week feeling a bit paranoid, reading about examples of apps that had been turned down. Thankfully that didn't include mine because that brings us to…
Do a little dance for joy that your app is now available for download!
To be honest now I look back at this process, this was actually the easy bit. I'd prepared a marketing plan for BeautyCraft app so the moment the app went live I knew what to do. The hardest bit about having your own app is getting other people to realise it's there and that they really want to download it. Apple only chooses a small number of apps to showcase in the App Store and invariably this list includes lots of games. Don't expect to be featured. Do expect to work hard at selling and marketing your app.
So – that's it! My 19-step foolproof (ahem…) plan for designing, programming and launching an app on a low budget.  Now before you go and put it into action, please go and download BeautyCraft app first so you can see how it's done. 🙂
Like this post? Sign up for the Herb & Hedgerow newsletter!
[sp_grid span=one_half]
[mailchimpsf_form]
[/sp_grid]