Following on from my recent interview with Laura Sanchez, Founder of Lypsso, I am creating a series of interviews with inspirational women. I recently started using a great website called WomenLoveTech.com and was blown away by its fabulous content and design. Here I interview its creator and founder, Frederique Bros.
---
Could you introduce yourself and tell me a bit about your background?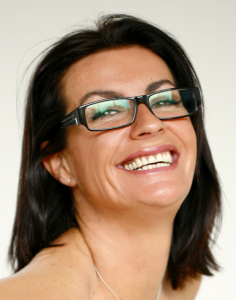 My name is Frederique (Freddie) and I am the founder of Women Love Tech. Born in France, for the last 13 years I have called Sydney, Australia home. I worked over 10 years as a Graphic/Web designer, I am passionate about the latest technologies, gadgets and apps.
I share my busy life with my lovely French Bulldog, Oscar De La Renta (why on earth I named my dog like this!). I am a vegetarian, and with my love for water sports (I live 5 minutes walk from the beach) the protection of the environment is important to me. During the weekends I enjoy the company of my friends around a cold beer or a good glass of Pinot Noir (okay, maybe a bottle).
What is Women Love Tech?
Women Love Tech is an award winning lifestyle technology blog for women. Whether it's the best app for travel and health, the latest on smartphones, fashion sites, lifestyle and beauty apps, trendy gadgets, social media, latest news, blogger tips or product reviews, Women Love Tech will deliver!
The blog is designed for women (and men) with busy lifestyles who don't have time to check the latest app, site, gadget or smartphone. Women Love Tech is an online magazine to share enthusiasm and support for all that is great in technology in a fun and entertaining way.
What inspired you to set up Women Love Tech?
My girlfriends were asking me all the time how to fix their phone, computer, where to find the best fashion site, or the one for running. I couldn't find one site on the Internet which would gather all that information. Some websites contained too much 'girly talk' and were not efficient in providing the right content while others were too techie – even I was lost in translation!
This is how Women Love Tech was born in 2012 and you won't find any geeky talk here, reading the blog is more like having lunch with an expert girlfriend 🙂
Do women like technology?
Yes and no, I think they are more afraid of the word 'technology' than technology itself. Women are extremely smart and tech-savvy, they are completely able to understand something 'techie' but it's always easier when it is explained by an another woman than a guy, we have our own 'language (laughs). With the blog I make technology approachable, readable, sexy and fun!
What are your favourite techie gadgets and apps?
That is a tricky one, I have so many, but I can't live without my iPhone 5 and my UE Boom waterproof speaker. I play music all the time in the bathroom.
I try so many apps per week, but the ones I use all the time are Viber for calling my friends overseas, Google Maps (yes me too, I'm bad with road directions), Facebook, Twitter, MailChimp for my Women Love Tech newsletter and iDashboard which is the best app to measure the blog statistics.
But ask me the same question next week and I will answer something different!
---
I hope you will go and check out WomenLoveTech.com and sign up for Freddie's fabulous newsletter. Thank you to Freddie for taking the time to speak with me and check in for more interviews with inspirational women in 2014!