Having spent the last years learning about 'conventional' skincare and cosmetics, I have now got to the point that I prefer to use as many natural skincare products as possible. By 'natural', I mean products that contain mainly or only natural ingredients (e.g. fruit butters, natural oils, herbal extracts, essential oils, natural preservatives, etc.) rather than their synthetic counterparts. I also try to avoid conventional products that are mainly based on water as they are then pumped full of preservatives with the intention of making them last for years. I would prefer a beauty product that was freshly made, where I can recognise the ingredients on the back of the packet. You also wouldn't expect your fresh food to last for years, so why would you want that from a cosmetic?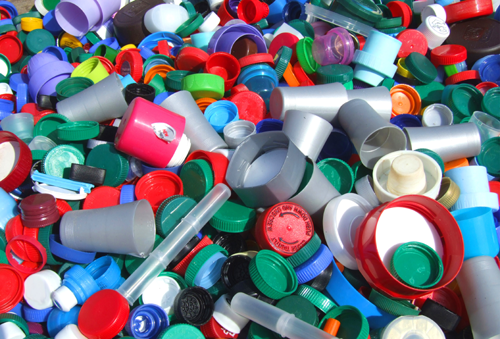 So with that in mind, I recently set out to rid our house of all the out-of-date and non-'natural' beauty products. Our bathroom was filled with bags of old sunscreens, bath foams, hotel shampoos, moisturisers, cosmetics and other skincare products. All of them were long out of date but still smelled and looked fine – even the bottle of after-sun lotion that I bought in Australia in 2001 twelve years ago! That worries me… surely nothing should last that long?!
I emptied all of the plastic bottles so that I could recycle them. Only one or two of the bottles weren't made of plastic, highlighting yet another unsustainable element of the worldwide beauty industry. I decided to empty the contents into one big bowl to see what I was dealing with. It was revolting. I advise you to pour the contents of your foundation bottle into a bowl at some point and then question whether you really want to block your pores with this gloop.
As you can see from the picture below, my experiment yielded what can only be described as a big bowl of colourful gunk. I would consider our household's use of skincare products to be minimal, but nonetheless this little experiment yielded 2.5kg of gunk. I would guess that this means most other people have much more lying around their bathroom. The big stringy orange heap in the middle of the bowl is Elizabeth Arden 8 hour cream, by the way.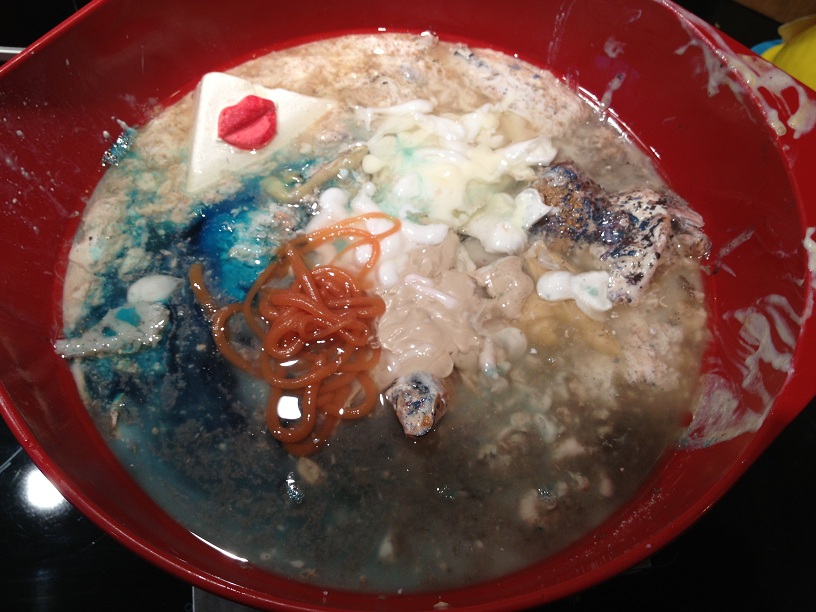 Once I'd filled my bowl of cosmetic gloop, I was left wondering what on earth I should do with it. Condemning my sludge straight to landfill didn't feel right. After all, most recycling facilities take back old tins of paint and other chemicals, so I hoped there might be some provisions for old cosmetics. I obviously couldn't bring myself to pour any of this sludge down the sink or toilet – the environment takes enough of a battering on a daily basis without our waterways needing even more toxins swirling around in them.
I called my local authority's waste team at West Dorset District Council. They advised me to put it straight in the bin for landfill. So much for my concerns being shared about chemicals being shoved in a hole in the ground! Not content with that, I wrote to DEFRA – the UK Government's Department for Environment, Food and Rural Affairs. They advised me that tipping my gloop down the drain might not be a legal offence, but that I should seek advice from the Environment Agency, my local sewerage supplier and my local authority.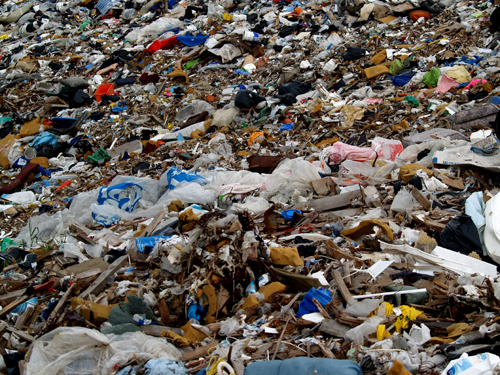 Obviously that didn't help in the slightest. They were essentially passing the buck and telling me to ask someone else. So on I went and then wrote to the UK's Environment Agency. They quickly got back to me and told me that they had no specific guidance on disposal of cosmetics and that I should check with my local authority. In other words, all roads lead back to landfill.
I think it's safe to say that many UK local authorities, as well as many Governments and environmental protection bodies around the world, needs to start giving some serious thought as to how people dispose of their cosmetics. Most conventional cosmetics contain some strong synthetic ingredients which, if allowed to accumulate, would be unlikely to do our environment much good. In fact, some of them may even cause harm depending on their ecotoxicity levels (which warrants a whole blog post by itself!).
The best way of dealing with the disposal of old cosmetics is to make sure you don't buy products that are pumped full of synthetic ingredients in the first place. There are plenty of alternatives, including safe natural preservatives, some of which will be biodegradable. It's always best to seek these out so that you won't find yourself purging 2.5kg worth of cosmetic gloop.
Finally, if you happen to have unwanted cosmetics lying around which are still usable and in date, consider donating them to http://www.giveandmakeup.com/, a non-profit initiative whose sole purpose is to get everyday essentials into the hands of the women and children who need them the most.
So, what do you do with your unwanted or out-of-date cosmetics? I'd love to hear your experiences, feel free to comment below!