Given that winter is upon us, the HerbBlurb will start with a profile of the beautiful rosehip. Here in England at this time of year, the rosehips glow a vibrant red in the hedgerows that line our country lanes. The rosehip is the fruit of the dog rose (Rosa canina), which forms after the flowers have been pollinated.
The Rambling Briar Rose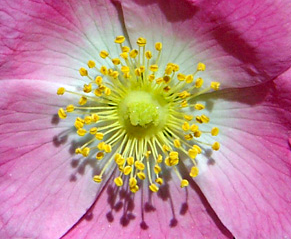 The dog rose, otherwise known as the 'wild rose' or 'briar', is one of our longest-living plants. A bush growing in Hildesheim in Germany was said to have been planted there in AD850 by Emperor Charlemagne's son (Hatfield's Herbal, 2007).
Rosehips have long been used for medicinal purposes, given their high Vitamin C content. Shipments of citrus fruit were far and few between during World War II, so people were encouraged instead to forage for rosehips throughout the UK. County-wide collections were organised by schools, volunteers and branches of the Women's Institute so that by the end of the war, 2,000 tonnes of rosehips had been collected for syrup manufacture.
Although rosehips are incredibly high in Vitamin C, it's best not to go eating them straight from the hedgerows as they are filled with lots of little irritating hairs which are used in itching powders! Rosehips are very high in lycopene, a powerful antioxidant – you might have heard of this compound as it's also found in tomato ketchup.
Hedgerow anti-ageing skincare
When it comes to cosmetics, rosehip seed oil is one of best plant oils you can use on your skin. The seeds of the rosehip are cold pressed to extract all the oily goodness, which tends to have a red hue. This oil is then bottled and sold as cold pressed rosehip seed oil. Although rosehips grow in many parts of the world, the oil you can buy is extracted from the seeds that form in the hips of the wild rose of Chile – Rosa Affinis Rubiginosa, – commonly known in Chile as Rosa Mosqueta.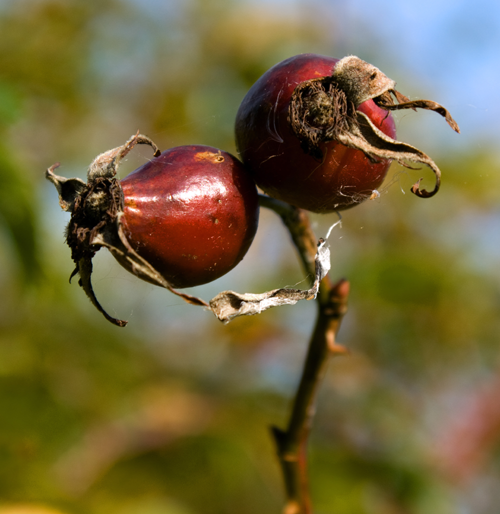 This oil is high in essential fatty acids, including the naturally occurring form of Vitamin A (retinoic acid). These essential fatty acids smooth wrinkles by hydrating the skin and are thought to slow signs of ageing (Datta et al., 2011). These fatty acids are called "essential" because our body is not able to produce them for itself, but instead must rely on uptake from dietary sources. Essential fatty acids are crucial nutrients for the maintenance of healthy skin as they provide tissue regenerating and rejuvenating effects and can also act to reduce inflammation. Because of this high fatty acid content, rosehip seed oil penetrates the skin's upper layers very quickly, making it an excellent moisturiser.
Rosehip seed oil underwent clinical trials in South America in the early 1980s, when a scientist at Hospital van Buren in Valparaiso, Chile conducted research on 180 individuals (Carbajal Montiel, 1984). These tests studied people with extensive facial scarring, acne scarring, deep wrinkles, UV damage, radiation damage, burn scars, surgical scars, premature aging, dermatitis, and other skin related problems. In these tests, rosehip seed oil regenerated the skin, reduced scars and wrinkles, prevented the advancement of wrinkles and ageing, and helped skin to regain its natural colour and tone.
Rosehip seed oil leaves the skin feeling velvety soft. It's termed a 'dry oil' because it doesn't leave that same heavy oily feeling on your skin and because it absorbs very quickly without leaving a greasy residue. It is deeply moisturising and one of my favourite facial oils!
References & Further Reading

Carbajal Montiel, F. 1984. Aplicación clínica del aceita de Rosa mosqueta en cicatrices anti estéticas. Hospital van Buren V. Region. Valparaiso, Chile.
Datta, H.S. et al. 2011. Theories and Management of Aging : Modern and Ayurveda Perspectives. Evidence-Based Complementary and Alternative Medicine Volume 2011 (2011), Article ID 528527, 6 pages. http://www.hindawi.com/journals/ecam/2011/528527/
Hatfield, G. 2007.  Hatfield's Herbal: The Curious Stories of Britain's Wild Plants
Nozedar, A. 2012. The Hedgerow Handbook: Recipes, Remedies and Rituals
Wright, J. 2010. Hedgerow (River Cottage Handbook)