Herb & Hedgerow is based on the south coast of England, where strawberries are quintessentially part of our heritage. During the summer months, there is nothing lovelier than a big bowl full of Eton mess or strawberries & cream while settling down to watch the tennis at Wimbledon. But did you know that strawberries and their tiny seeds are also great for your skin?
Little Red Gems in the Hedgerow
The woodlands around us here in Dorset are covered in wild strawberries (Fragaria vesca) and when we go out walking or foraging, we see lots of wild strawberries with their tiny white flowers growing all over the woodland edges. These wild strawberries are not just great for us, but also great for the wildlife around us who love eating these little fruity gems. 'Fragaria' means flavour and that's exactly why all of us love this fruit so much. These are not the strawberries you find readily available in the shops, instead these little wild or woodland strawberries are tiny, packed with flavour and covered in seeds. In fact, they contain an estimated 2,500 seeds to the gram (Vilmorin-Andrieux, 1885).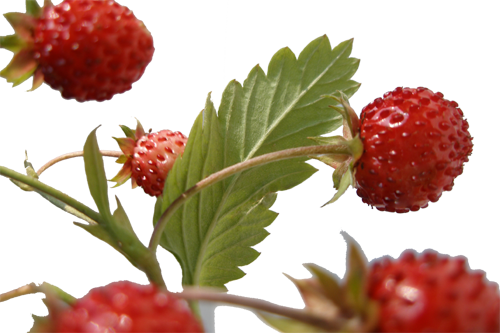 These nutrient-rich seeds are used to make strawberry seed oil. Oil suppliers in the UK also use garden strawberries (Fragaria ananassa) to make strawberry seed oil, which are collected as a by-product of the fruit juice and jam manufacturing industry. This is a great way to use a homegrown source of oil and to ensure that these beautiful little seeds aren't simply discarded. These tiny strawberry seeds are then cold pressed with a mechanical grinder or press to create a light fragrant oil. Its aroma is fresh, sweet and reminiscent of fresh strawberries – a perfect hint of a sunny English summer in your skincare!
Dessert on your face
In other words, strawberries aren't just great to eat, they're also great in your skincare. Strawberry seed oil is very high in linoleic and alpha-linolenic acids. These are essential fatty acids and are part of the Omega-3 group. Strawberries also contain an antioxidant called ellagic acid, which is the predominant phenolic antioxidant (a type of antioxidant found only in plant foods) in strawberries (Tabor, 2009).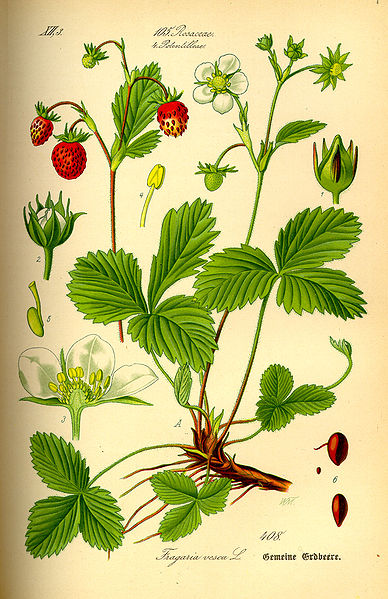 In April 2009 researchers at Hallym University in the Republic of Korea demonstrated that the application of ellagic acid extracts from nuts, fruits and vegetables keeps skin more youthful by preventing collagen breakdown under the skin.  Ellagic acid has an anti-inflammatory effect on the skin and prevents damage from ultraviolet radiation. The study showed that the skin care products containing ellagic acid provide many benefits such as reducing wrinkles, promoting collagen production and providing protection from UV rays (Bae et al., 2010). Research has indicated that strawberry seeds may contain more health-promoting effects than some other parts of this beautiful red fruit. The highest levels of ellagic acid are found in strawberry leaves, followed by strawberry seeds and then fruit pulp (USDA, 2007).
What a great anti-ageing skincare oil! Strawberry seed oil moisturises and protects the outer layers of our skin. The oil helps to repair the moisture barrier of the skin, thus helping to restore smoothness and suppleness. Strawberry seed oil is very rich and is also known as a 'dry oil', much like rosehip oil. It absorbs even faster than rosehip oil and leaves a subtle strawberry fragrance on your skin. It has a truly beautiful aroma and is one of the most divine skincare oils I've ever come across!
References & Further Reading

Bae JY, Choi JS, Kang SW, Lee YJ, Park J, Kang YH. 2010. Dietary compound ellagic acid alleviates skin wrinkle and inflammation induced by UV-B irradiation.  Exp Dermatol. 2010 Aug;19(8):e182-90.  Department of Food and Nutrition, Hallym University, Chuncheon, Korea.

Nozedar, A. 2012. The Hedgerow Handbook: Recipes, Remedies and Rituals
Tabor, A. 2009. Nutritional Cosmetics: Beauty from Within (Personal Care and Cosmetic Technology)
US Department of Agriculture. Boosting Ellagic Acid in Strawberries. http://www.ars.usda.gov/is/ar/archive/aug97/ellagic0897.htm
Vilmorin-Andrieux. 1885. The Vegetable Garden
Wright, J. 2010. Hedgerow (River Cottage Handbook)