Have you ever thought about the use of colour in skincare branding? What if I told you that colour is a very powerful way of conveying the message behind your brand? What if I told you that a lot of companies have chosen their branding colours to give you the impression that their skincare is 'natural' but actually it's not?
We are all consumers but chances are, you've probably never realised how much we are all manipulated to purchase products when we see a certain colour.
On the flip side, if you run your own skincare business, or you have plans to set one up, you're now thinking about your business brand, logo and packaging. You might have thought about the use of colour in your logo, or you might simply have gone with something that looks pretty.
You might have thought about the colour used in your packaging, or you might have balked at the idea of having to spend many extra hundreds of $$$ to have bespoke packaging made that fits your brand. You might instead have chosen something a bit cheaper which isn't quite on brand (and is possibly more sustainable).
---
Colour Influences Your Buying Decisions
The maestros who develop the brands we follow spend ages thinking about the smallest details in order to encourage you to grab your credit card and spend your hard-earned cash on their products. They want their products and their brand to be instantly recognisable and leap off the shelf at you.
Think about it:

Red = Coke
Blue = Facebook
Brown = UPS
These three businesses are fabulously successful at what they do and there is no doubt that people associate their brand with that colour.
But it goes deeper than that. Additional studies have revealed that our brains prefer recognisable brands, which makes colour incredibly important when creating a brand identity. Yet more research has highlighted that there is a real connection between the use of colours and customers' perceptions of a brand's personality.
Colour increases brand recognition by up to 80 percent. In fact, research has shown that 60% of the time people will decide if they are attracted or not to a message based on colour. This awesome infographic also shows that people make a subconscious judgement about a product within 90 seconds of initially seeing it. And up to 90% of that assessment is based on colour alone!
---
I Analysed 50 Natural Skincare Brands
I thought it would be fun to look at what the world of skincare does in terms of its branding when it comes to businesses who claim to sell natural and organic products. After all they have a clear message that they want to send out into the world – they say "hey guys, our products are pure, clean and good for you. You can trust us." But which colours do they use to tell you that?
So I made a list of 50 of the most successful 'natural' skincare brands in the world.
(I do of course use 'natural' in the loosest sense of the word here, as some of these companies brand themselves as natural but their ingredients unfortunately don't reflect that brand strategy at all. More on this later.)
I then looked at the colours they used and wrote down the three main colours in their branding – taking into account their logo, their cosmetic containers and their packaging.
The results were interesting and because I'm such a geek, I've prepared them into little pie charts for you so you can see for yourself.
Main Colour Used In Natural Skincare Branding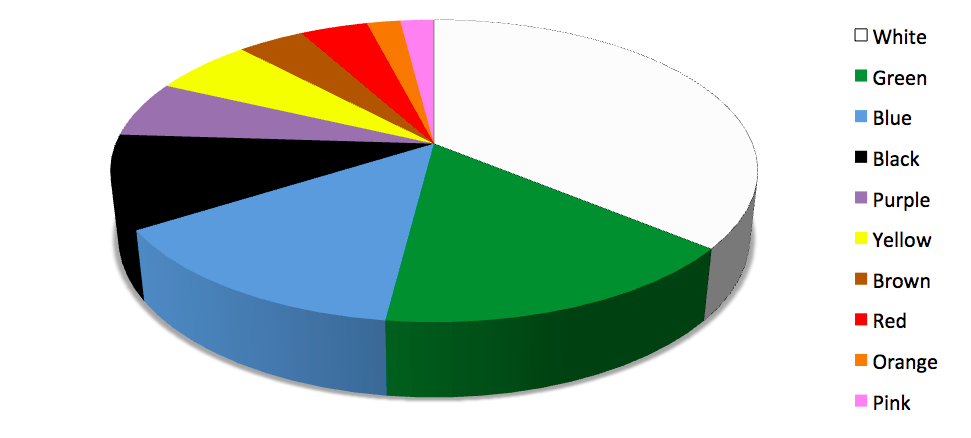 As you can see, the three colours used most in the world of natural skincare are white, green and blue. In fact, those three colours combined account for two-thirds (66%) of all colour used by the natural skincare companies I looked at.
But most companies use more than one colour, so I then also looked at the secondary colour used by these brands on their products and packaging.
Second Colour Used In Natural Skincare Branding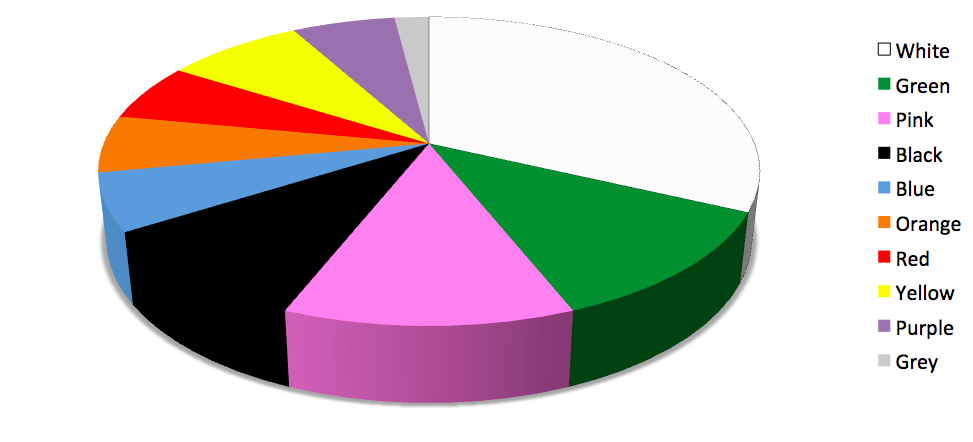 This image shows very little difference from the first one, as you can see most brands still stick firmly to white (32%) and green (12%). However, we've now got the addition of pink in various shades, as well as black. These four colours make up two-thirds (66%) of the total colour palette used by natural skincare companies.
Now is when things start to go a little kaleidoscopic. As most companies use more than two colours, I thought I'd go down one more level and look at the third colour used by most natural skincare brands.
Third Colour Used In Natural Skincare Branding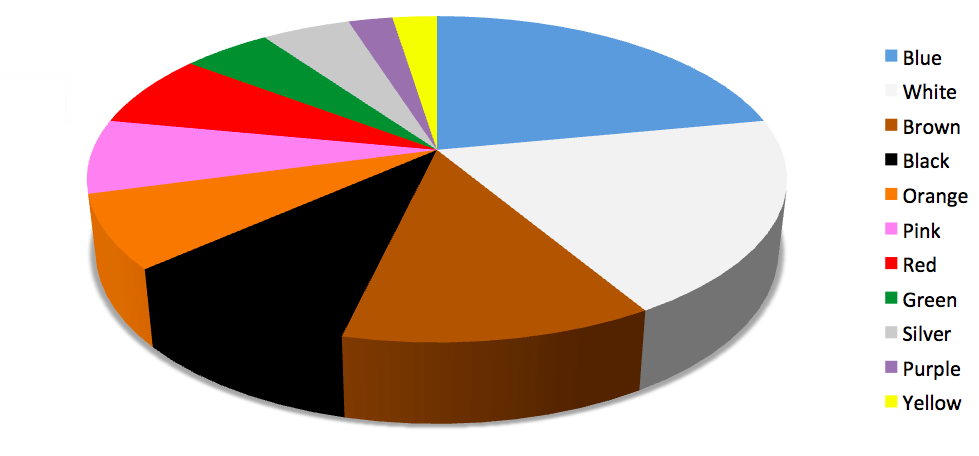 All of a sudden blue moves into pole position with 22%, closely followed by white again (20%). But green has vanished and has now been replaced by brown, black and orange.
---
What Do These Colours Mean?

Let's have a look at what these colours mean in general terms. Here are some suggestions for the messages conveyed by certain colours.
It's clear that the natural skincare industry favours white over all other colours. It pretty much dominates most of the labels, containers and packaging used in the industry.
White generally signifies simplicity, cleanliness and purity. We view white as a brilliant colour so it immediately catches your eye when used in branding. It's often used in health-related products and products for infants.
Not surprising really, is it? Natural and organic skincare manufacturers want you to feel that you are using a holistic, simple and pure product on your skin.
But as we can see from my geeky pie charts, white is closely followed by green, which stands for health, freshness and serenity. This message ties in perfectly with the overall marketing message for natural and organic skincare – your products contain botanical extracts, have shorter shelf lives so are 'fresher' and create a sense of health and calm.
Next up is blue – perceived to signify trust and dependability. The skincare world is filled with people who make fantastic claims about their products, not least the fact that they are completely natural when they actually contain lots of synthetic chemicals. Giving your consumers the subtle message that they can trust you is very powerful. Blue is also associated with the sky and the sea and is universally well-liked.
So far, so good – white, green and blue make your brand look pure, fresh and trustworthy. What more does a natural skincare brand want?
Well, it turns out they also want some pink, black, brown and orange in their life! This is where we start to move into different subtle marketing messages.
Pink conveys different messages depending upon the shade used. Hot pink can mean energy, youthfulness and excitement! Dusty pink conveys sentimentality. Light pink is seen to be more romantic.
Black means luxury, sophistication, professionalism and seriousness. Using black in your branding can help elevate your business to look high end.
Brown is an earthy colour that conveys durability, stability and simplicity. However, some consumers can view brown as being 'dirty' which might be off-putting.
Orange evokes fun, vitality and exuberance. This is a playful colour to add into your branding and is often seen as gregarious and possibly even childlike.
These colours are clearly not chosen to tell the world that these skincare products are natural but to convey a further meaning to the brand which is good because if you want your skincare business to be successful, you generally want to target a niche.
I run an online Mastermind group for (aspiring) skincare entrepreneurs and one of the comments someone made recently is that 'organic' is not a skincare niche. That's so true, which is why you want to bring out more of your personality in your brand and proudly show off your niche, much like some of the companies I looked at did when they incorporated a wider palette of colours into their brand.
What other colours could you use? Have a look at this interesting graphic or read more about the psychology of colours in branding.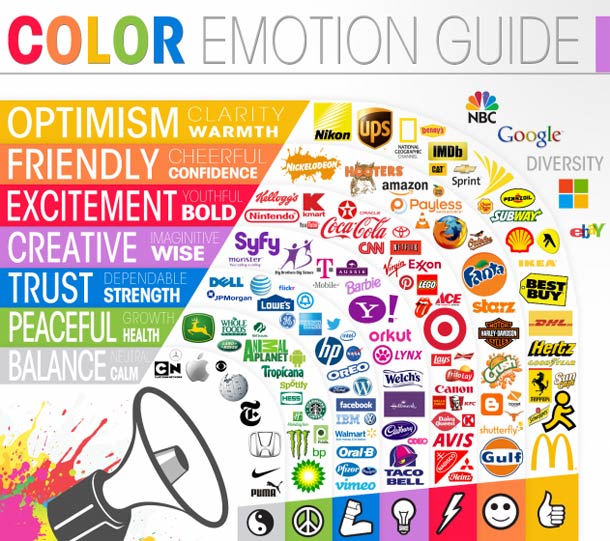 ---
What Do Consumers Think Of These Colours?
As a consumer, you might have looked at packaging before and found it utterly repellent but not known why. On the other hand, you might have found yourself inexplicably attracted to a brand and not understood why it is that you love it so much.
That's why it's so important for companies to understand what their target audience likes and dislikes. These businesses might be conveying an important message to the people they want to sell to, but if they get the colour wrong those people might not want to hear it.

(image courtesy of Kissmetrics)
This graphic shows the colours that women like and dislike in general. Don't worry if you're a woman and you love orange, this is just a sweeping generalisation.
Women like: Blue, Purple and Green
Women dislike: Orange, Brown and Grey

(image courtesy of Kissmetrics)
Men have strong general colour preferences too. Again, don't despair men, not all of you will hold these views (my boyfriend loves purple for instance) but this is just a general overview.
Men like: Blue, Green and Black
Men dislike: Brown, Orange and Purple
Brown and orange are generally not very popular colours with both genders. However as we saw in my results above, brown and orange come back strongly in many natural skincare brands. An interesting side note is that many cosmetic containers come in brown in order to keep the light away from the finished product.
---
Natural vs Unnatural Skincare
So now we know the dirty little branding tricks of the industry, let's play a game with a couple of examples.
The Body Shop – Olive Shower Gel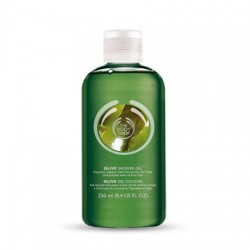 The Body Shop is a great example of a brand that has positioned itself as natural and fair trade. They call themselves 'the original, natural and ethical beauty brand'. This product is described as a 'soap-free bath and shower gel containing organic, cold-pressed olive oil.'  As we can see from the packaging and branding, it uses different shades of green and white. 
Looking at this packaging, you would definitely think it's a very natural shower gel which contains lots of beautiful rich organic olive oil. Green in branding is associated with nature, health and freshness. White conveys simplicity, cleanliness and purity.
Now let's look at the ingredients. I've highlighted in red (note my clever use of colour, haha!) when the ingredient is synthetic or at best, naturally derived.
Aqua/Water (Solvent/Diluent), Sodium Laureth Sulfate (Surfactant), Cocamidopropyl Betaine (Surfactant), Glycerin (Humectant), Polysorbate 20 (Emulsifier), PEG-40 Hydrogenated Castor Oil (Emulsifier), Parfum/Fragrance (Fragrance), Sodium Chloride (Viscosity Modifier), Polyglyceryl-2 Caprate (Skin-Conditioning Agent), Trisodium Sulfosuccinate (pH Adjuster), PEG-120 Methyl Glucose Dioleate (Viscosity Modifier), Mel/Honey (Natural Additive), Sodium Benzoate (Preservative), Citric Acid (pH Adjuster), Olea Europaea Fruit Oil/Olea Europaea (Olive) Fruit Oil (Emollient), Linalool (Fragrance Ingredient), Disodium EDTA (Chelating Agent), Denatonium Benzoate (Denaturant), CI 19140/Yellow 5 (Colour), CI 42090/Blue 1 (Colour), CI 17200/Red 33 (Colour)
Olive oil comes way down the list, which means that the finished product most likely contains less than 1% olive oil. The main ingredient is water and the rest consists of mainly synthetic surfactants, emulsifiers and ingredients to change the pH and viscosity, amongst others.
The branding for this product is of course very clever because most people (a) don't read the label and (b) even if they did, they wouldn't understand it, so they go on colour and brand and most likely buy this product thinking it is very natural and filled with olives.
Origins – A Perfect World BB SPF 15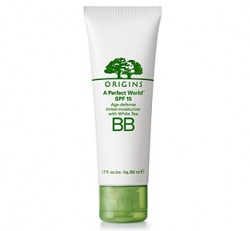 Origins, owned by Estee Lauder, is another brand that positions itself as natural and botanical. It's strapline is 'Powered by nature. Proven by science.' This tinted moisturiser is described on their website as 'Nature's BB Cream' which suggests that it consists of natural ingredients.
Looking at the branding and packaging, you'd also be encouraged to think that is fully naturally derived. White and green packaging, together with all green lettering and logo suggests purity, simplicity, health, cleanliness and freshness.
Let's have a look at the ingredients. Again, I've highlighted in red where they are synthetic (and I've been pretty kind in leaving some of them black when actually most sorbic acid and potassium sorbate, for instance, is produced synthetically).
Active: Avobenzone (2%), Octinoxate (7.5%), Octisalate (5%) Other: Water, Dimethicone, Caprylic/Capric/Myristic Stearic Triglyceride, Butylene Glycol, Cyclopentasiloxane, Steareth-2, Cetyl Ricinoleate, DI-C-12-15 Alkyl Fumarate, Polysilicone-11, Pentylene Glycol, Steareth-21, Coffea Arabica (Coffee) Seed Extract, Triticum Vulgare (Wheat) Germ Extract, Laminaria Ochroleuca Extract, Hordeum Vulgare (Barley) Extract/Extrait D'Orge, Camellia Sinensis (White Tea) Leaf Extract, Polyethylene, Hydrogenated Lecithin, Stearyl Alcohol, Polyaminopropyl Biguanide, Linoleic Acid, Cholesterol, Dimethicone Copolyol, Squalane, Caffeine, Sodium PCA, Urea, Caprylic/Capric Triglyceride, Hexylene Glycol, Sodium Hyaluronate, Pantethine, Polyquaternium-51, Sodium Hydroxide, Trehalose, Oryzanol, Ascorbyl Tocopheryl maleate, Tromethamine, Glycerin, PEG-9, Dimethicone, Behenyl Alcohol, PVP/Hexadecene Copolymer, Carbomer, Caprylyl Glycol, Fragrance, Disodium EDTA, Linalool, Limonene, Citral, Sorbic Acid, Phenoxyethanol, Potassium Sorbate, Chlorphenesin, Titanium Dioxide, Iron Oxides, Bismuth Oxychloride, Ferric Ammonium Ferrocyanide, Mica, Red 7
Again, it would be hard to justify this product as 100% natural, yet this is branded successfully as 'Nature's BB Cream' and the colours used in the packaging would certainly lead you to think it's packed full of natural ingredients.
Please note – This blog post isn't about bashing brands over the head for choosing to use synthetic ingredients, it's more to show how clever their branding is by making us think that their products are 100% natural… when in fact, I think it's safe to say that they aren't. 
---
How To Make Your Brand Stand Out
Different companies use branding in different ways. Some skincare brands have become enormous and try to be everything to everyone so they use every colour under the sun in their branding and packaging (The Body Shop is a great example of this). Other brands are very consistent and use the same colours on every single one of their products.
If you want your natural skincare brand to stand out, here are my top tips:
Discover your brand's personality. It's the feeling, mood, and image that your brand creates that plays a role in persuading people to buy from you. Colours only come into play when they can be used to match a brand's desired personality. Don't worry if you are desperate to make labels that are all orange and brown. If they match your brand's personality, then that's what's most important. 
Embrace your brand. The businesses that embrace their brand fully are the ones that people remember. This doesn't mean that you need to follow what everyone else is doing and go with only white, green and blue and it also doesn't mean that you need to use the same colour on every piece of packaging. You just need to be clear on your overall message, you need to know who you are marketing to and you need to know how you're going to show the world your brand consistently.
Discover your skincare niche. 'Natural' and 'organic' are not niches anymore. Drill down to a niche that fits your products and your brand ethos. Then pinpoint your target audience and think about the feeling you need to create for them to buy your products.
Don't worry about bucking the trend. Look at T-Mobile and their pink logo. Can you think of many other pink logos in the mobile phone industry? This doesn't matter though because they stand out like a sore thumb and sometimes, that might be just what you need.
---
Have a skincare business and want support in getting clearer on your branding and marketing? Lorraine offers a coaching programme for skincare entrepreneurs – be sure to check out The Potion for Success.