This blog post is the part of a series I'm writing on cosmeceuticals and their biologically active plant-derived ingredients. This month we're looking at a major constituent of green tea called Catechin.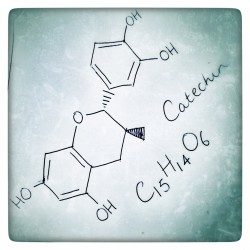 Catechin is typically associated with green tea which is a popular ingredient in cosmetics. Green tea extract can be found in all sorts of products, including lotions, shampoos, conditioners, toners and cleansers.
Catechin – the Basics
Catechin is a flavan-3-ol, a type of natural phenol and antioxidant. Although many plants contain catechin, it is typically associated with tea and in particular, green tea. There are more catechins in green tea than in black tea. In fact, there are 6 of which the most studied is epigallocatechin gallate. The others are catechin, gallocatechin, epicatechin, epigallcatechin, and epicatechingallate.
Much like bisabolol (a wonderful cosmeceutical ingredient found in chamomile), catechin is used by some plants to protect themselves. Scientists have found that some plants release catechin into the ground to hinder the growth of their neighbours (Broz & Vivanco, 2006).
How is it made?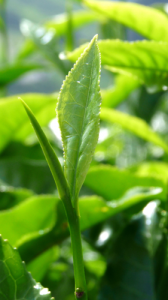 Levels of catechin are concentrated in foods like raw apples, apricots, nectarines, pears and plums with skin, blackberries, red raspberries, cranberries, cherries and broad beans. Dark chocolate contains over twice the amount of catechin found in berries while barley, raisins, red wine and rhubarb are also good sources of catechins. Oolong tea contains 23% catechin, and black tea around 4 percent. However, unfermented green tea is the clear winner when it comes to catechin content, with about 27% of its makeup being catechins.
What does it do?
Isolated green tea (Camellia sinensis) polyphenols such as catechin and epigallocatechin gallate have been found to inhibit the breakdown of collagen and elastin. Collagen and elastin keep our skin moist, smooth, flexible and elastic and break down with ageing which is why skin elasticity gradually decreases with age. Catechins are powerful bioflavonoids with strong anti-oxidant activity (Thring et al., 2009).
In clinical trials, topical green tea applied to human skin provided protection from the sun between 24 and 72 hours. It reduced the number of sunburn cells by 66% when applied 30 minutes prior to sun exposure.
Green tea is used to soothe sunburn, reduce baggy eyelids, and encourage wound healing. Black tea extracts applied before and after exposure to UV rays decreased signs of damage to the skin caused by sun exposure, cancer, and skin inflammation (Thornfeldt, 2005; Elmets et al., 2000).
The final verdict?
Research indicates that topical application of catechins may have the following cosmetic effects:
They mitigate the adverse effects of sunlight on human skin.
They inhibit the activity of collagen breakdown and increasing the synthesis of collagen.
They naturally exfoliate the dry flakes which are the root of dandruff without dehydrating the skin (Sandeep et al., 2012).
As catechins are such incredible antioxidants, they are a fabulous addition to any skincare formula. Isn't green tea awesome?!
References and Further Reading
Broz, A.K. & Vivanco, J. 2006. Secondary Metabolites and Allelopathy in Plant Invasions: A Case Study of Centaurea maculosa. A Companion to Plant Physiology, Fifth Edition.
Elmets, C.A., Singh, D., Tubesing, K., Matsui, M., Katiyar, S., Mukhtar, H. 2000. Cutaneous photoprotection from ultraviolet injury by green tea polyphenols. Journal of the American Academy of Dermatology Volume 44, Issue 3 , Pages 425-432, March 2001.
Sandeep, K., Nisha, S., Archana, S. 2012. Green Tea Polyphenols: Versatile Cosmetic Ingredient. IJARPB, 2012; Vol.1 (3): 348- 362
Thornfeldt, 2005. Cosmeceuticals Containing Herbs: Fact, Fiction, and Future. Dermatol Surg 2005;31:873–880.
Thring, T.S.A., Hili, P., Naughton, D.P. 2009. Anti-collagenase, anti-elastase and anti-oxidant activities of extracts from 21 plants. BMC Complementary and Alternative Medicine 2009, 9:27