The infant cosmetics industry seems to be growing all the time, churning out new products that are 'essential' for your children. Or are they? As anyone who has held a baby or toddler will know, babies and infants generally have beautiful unblemished skin. Babies' skin is less oily than adults and their sweat glands are not yet fully developed. There is a reason that people use the expression "smooth as a baby's bottom"! Although infant eczema is a common occurrence – it occurs in 10-15% of babies – it is often treatable (depending on various factors) and may sometimes even be caused by those skincare products that we are told our children should use, such as soaps, bath foams and body lotions.
Developing immune system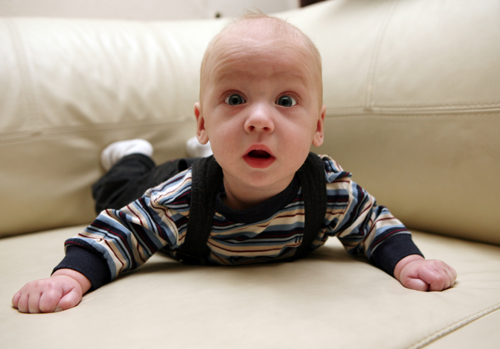 Many parents are now keen to make sure that their children eat and drink organic products and the same extends to skincare – the natural skincare market for babies and infants is also on the increase. After all, your child's immune system is not fully developed until the age of 6 (Stuart-Macadam & Dettwyler, 1995) so it makes sense that until that time you would take a precautionary approach and not expose your children to too many unnecessary chemicals.
Consider that baby skin care products are often applied to most of their body surface compared with only certain 'selective' sites in adults. Not only that, but keep in mind that the area of skin to body weight ratio is completely different in children than in adults, meaning that any product you apply to an infant's skin potentially has a stronger effect. It doesn't mean that cosmetic products you use on your children automatically enter their bodies or their bloodstreams (our skins are very effective protective barriers after all) but do consider that an infant's skin is thinner than that of an adult.
Are parents being unnecessary cautious and overprotecting their children? Perhaps not. According to the Women's Environmental Network, until babies are six months old, infants lack a blood-brain barrier to prevent blood-borne toxins entering the brain. In other words, low-level exposure to certain chemicals that would have little or no effect on an adult brain can potentially have an effect on the developing brain of a baby. Greenpeace goes on to warn us that "we should certainly be wary of any chemical that has been found to be intrinsically hazardous and that gets into our children's bodies and stays there".
Denmark bans parabens in children's cosmetics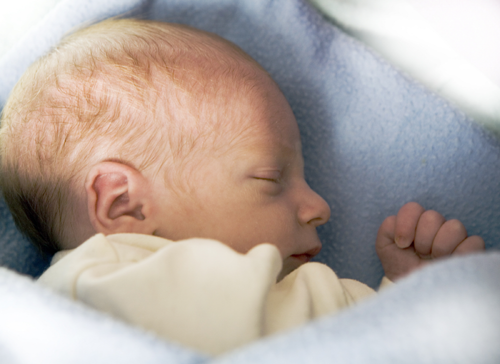 It seems that parents and NGOs are not the only ones with concerns. In 2011, Denmark enforced a ban on the sale of all cosmetic products containing certain parabens (propyl and butyl parabens) for children up to 3 years of age. This decision must have ruffled some feathers at the time as the mainstream cosmetics industry has generally always defended their use of parabens and claimed that they are safe to use.
The European Commission's Scientific Committee on Consumer Safety consequently issued an official opinion on Denmark's controversial decision, as this move clearly went directly against EU-wide consumer cosmetic legislation where parabens are deemed to be safe for use (SCCS, 2011). Interestingly, this committee concluded that in the case of children below the age of 6 months they could not exclude a risk from certain parabens present in leave-on cosmetic products designed for application on the nappy area given a baby's immature metabolism and risk of damaged skin (e.g. nappy rash). They went on to say that safety concerns could legitimately be raised.
In other words, they too recommended a precautionary approach and whilst the official opinion is very carefully worded, this is nonetheless a strong document of support for (at least part of) Denmark's decision and the decision of many parents to shun certain "mainstream" cosmetics and toiletries for their children.
I'm picking on parabens here as one example , but the issue clearly goes wider than that. Let's be clear on one thing – if you are going to use water-based cosmetics on your child (which probably covers most infant toiletries), they will need to contain some kind of preservative or else have an incredibly short shelf-life. Whilst it is not desirable to slather your infant with unnecessary chemicals, you also don't want to cover them in skincare products subject to rampant microbial growth. This dilemma leaves parents with no option but to make sure that any products they buy are properly preserved and therefore do contain certain chemicals.
But are all these cosmetics actually necessary? Let's have a look at some of the products that are marketed specifically for babies and the typical ingredients they contain.
Baby perfume or cologne
As anyone who has given birth to a child knows, little babies smell perfect the way they are. They have that gorgeous baby scent of their own and you should never want to mask that. Yes, they may occasionally produce poo explosions that leave even the most hardy of us reeling in shock, but these are quickly washed away and should never justify coating your child with a synthetic aroma.
Nonetheless, that doesn't stop the expanding market in baby cologne. In the words of Dolce & Gabbana, their baby eau de toilette was inspired by "the softness of baby skin, the freshness of baby breath, a mother's sweet hug, the first smile". Their marketing department is clearly hard at work.
It was surprisingly difficult to find the ingredients for any of the baby colognes on the market without going out to purchase one (which I didn't). Normally websites list their cosmetic ingredients but in this case the manufacturers clearly chose to keep this information offline and only publish it on the products themselves. The actual ingredients for baby perfumes by Dolce & Gabbana, Bvlgari and Burberry were impossible to find although these companies are of course quick to tell you what their perfumes smell of. You can only assume that they don't want this information becoming too widely available as people might question why on earth it is necessary to slather your newborn child in unnecessary chemicals?
I did however manage to find the ingredients for one particular common brand of baby cologne:
Aqua (water), Polysorbate 20, Trideceth-9, PEG-40 Hydrogenated Castor Oil, Fragrance, Sodium Benzoate, Phenoxyethanol, Citric Acid, Propylene Glycol, Tetrasodium EDTA, Simethicone, Ext. Violet 2, Blue 1
Still keen to mask your baby's scent? If you read the Skindeep database, all of these ingredients are classified as safe for use in cosmetic products, but really… why would you? For closeness, comfort and protection babies need to smell the natural scent of their parents, not the artificial fragrance of Sicilian bergamot.
Bath Foam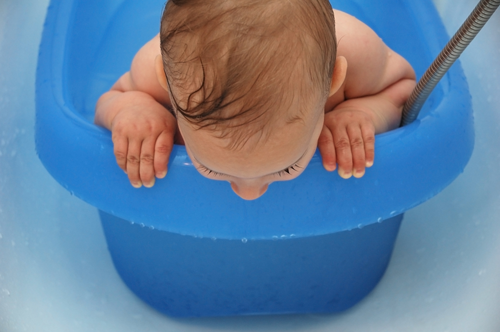 The shelves in our chemists are well stocked with all sorts of 'delicate' 'protecting' 'gentle' bubble bath products. Obviously, none of them point out that warm water is really all that is required to keep your baby clean. If your baby has dry skin, this is particularly important as such foaming products can just make things worse. On the other hand, so can hard water so you might want to consider not bathing your baby every day if that's what you currently do.
Have a look at the ingredients for this commonly used baby moisturising bath:
Aqua (water), Coco-Glucoside, Sodium Laureth Sulfate, Polysorbate 20, Sodium Lauroamphoacetate, Glycerin, Sodium Chloride, Citric Acid, Cocamidopropyl Betaine, PEG-150 Distearate, Paraffinum Liquidum, Lauric Acid, Disodium Lauroamphodiacetate, Laureth-4, Polyquaternium-10, Polyquaternium-7, Glycol Distearate, Lauryl Hydroxyethyl Imidazoline, Sodium Glycolate, Sodium Benzoate, Parfum, CI 42090
Confused by this list? Then check out the Skindeep database for yourself to read up on the ingredients and their risks. Many of them are deemed to be safe, while others find themselves on shakier grounds. But again, why would you use this for your baby if warm water will suffice?
Baby Lotion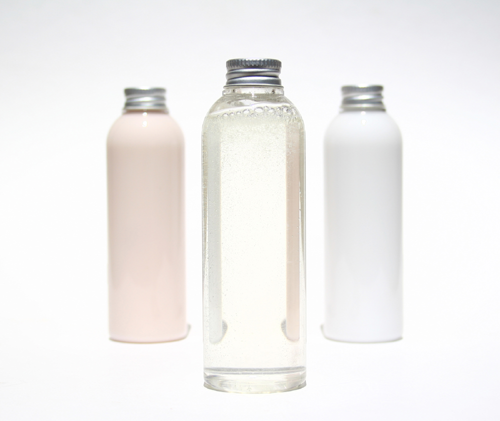 Does your baby need a moisturiser? Some babies have dry skin or even eczema, but perhaps you should have a look at the list of ingredients on your baby lotions before you think about using one on your child. Here are the ingredients for a very popular baby lotion:
Aqua, Propylene Glycol, Myristyl Myristate, Glyceryl Stearate, Oleic Acid, Stearic Acid, Polysorbate 61, c, Isopropyl Palmitate, Stearoxytrimethylsilane, Sorbitan Stearate, Cetearyl Alcohol, Synthetic Beeswax, Stearyl Alcohol, Benzyl Alcohol, Carbomer, Fragrance, Methylparaben, Propylparaben, Butylparaben, BHT, Sodium Hydroxide, Red 33 (CI 17200)
Spot the propyl and butylparabens? The very same ones that Denmark banned for children under 3 and which the European Commission's own research panel concluded might be harmful to babies in certain circumstances? Yet this is a product that's found on most supermarket shelves and which millions of people use. Perhaps you might want to consider cutting out your use of baby lotion or even making your own with a gentle plant-based oil before you grab that bottle.
Arm yourself with the facts
I could go on to discuss baby oil (mainly contains petroleum-based products), baby powder (mainly contains talc, which can cause breathing problems in babies if inhaled), baby wipes (many contain those pesky parabens again) and certain baby sunscreens, but I think you get the picture. Read the labels on your products and research the ingredients in them. Read up more on baby skincare and question whether you actually need these products for your child. Don't accept all the marketing blurb and trust your instincts. And finally, think about whether you could make something simple at home which would also do the trick.
There is a school of thought that now suggests that there is a link between dry skin or eczema and the ever increasing use of baby bubble baths, lotions, oils, talcs, wipes and perfumes. As there is limited scientific evidence to demonstrate the arguments either way (because no one wants to test out cosmetics on babies!), it seems sensible to apply a precautionary approach and try to limit their use wherever you can. After all, your child is going to be exposed to thousands of chemicals throughout their lifetime, so why give them a head start?
References and Further Reading
The Guardian, 2004. Throw out the bath water? http://www.guardian.co.uk/chemicalworld/story/0,14534,1210214,00.html
Royal College of Midwives. 2008. A review of baby skin care. http://www.rcm.org.uk/midwives/in-depth-papers/a-review-of-baby-skin-care/
Scientific Committee on Consumer Safety (SCCS), 2011. Clarification on Opinion SCCS/1348/10 in light of the Danish clause of safeguard banning the use of parabens in cosmetic products intended for children under 3 years of age. http://ec.europa.eu/health/scientific_committees/consumer_safety/docs/sccs_o_069.pdf
Stuart-Macadam, P. & Dettwyler, K.A. 1995. Breastfeeding: Biocultural Perspectives (Foundations of human behavior)