I recently had the pleasure of interviewing Laura Sanchez, the founder of Lypsso. We'd been chatting about natural beauty and thought it would be fun to showcase each other's businesses. I did a guest post over at Lypsso's blog on the top 5 anti-ageing skincare herbs last week and Laura answered some questions for me about her and her fabulous business.
Could you briefly introduce yourself and tell me a bit about your background?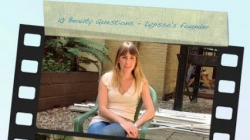 My name is Laura Sanchez, I am the founder and CEO of Lypsso.com. I was born in Murcia (Spain), but I also lived in the States for a while when I was young and then moved to the UK for further education.  I have a degree in Business Administration from Bath University and I recently completed an MBA.
Prior to Lypsso I was a Senior Business Consultant for over seven years for a consultancy firm. Over this time I worked in small and medium companies from different industries and I also took on the role of HR director for the firm. I decided to quit my job a year and half ago to set up my own business and I recently moved to London, where I want to take Lypsso.com to the next level.
What is Lypsso and how does it work?
Lypsso.com is an international "all beauty" website with a sustainability edge, where users and professionals can find information and post their views on natural-organic beauty products, and beauty-hair salons. It is a beauty site that aims to raise user's awareness of beauty sustainability in a fashionable manner.
As well as helping users to find all the beauty information in the click of a button, we also have a strong drive to help small businesses (natural – organic beauty products & hair – beauty salons) by enabling them to market their products and services to a large base of beauty users from all over the globe and raise their brand awareness, being online word of mouth (reviews) the key to their success.
At Lypsso, beauty users can compare and review a wide variety of natural – organic beauty products as well as hair – beauty salons they visited. We focus on natural and organic products as we believe in their values and feel that their availability is very limited, not meeting their growing demand. We aim to slowly change the perception of natural and organic beauty products and influence the beauty industry in the way beauty products are produced.
It is also a site where users can easily search for their favourite beauty and hair treatments in organic or regular salons, in the UK or anywhere in the world.
And Lypsso users are also able to:
Interact with other beauty lovers through our forum
Share their beauty or skin concerns with our community or beauty experts
Win "Lyps" points when they are an active member of our community and win beauty samples and treatments
Have exclusive access to events and prize draws
Receive our exclusive newsletter with the latest beauty news and discounts
What inspired you to set up Lypsso?
There were three main reasons that led me to believe that an "all beauty" site with a sustainability edge was missing in the beauty industry:
 Help small/medium businesses – Sustainable beauty – A beauty guide
 I have always been passionate about beauty products that not only were effective, but also chemical free, environmentally friendly and sustainable. But most of the natural and organic brands out in the market are small and medium companies and they don't get the chance to expose their products to a large audience due to budget and resource limitations.
My experience as a Senior Business Consultant helped me understand the challenges that small-medium businesses face when it comes to market their products, especially online. I find it extremely rewarding and motivating to help them achieve their business goals. So Lypsso was the perfect platform to continue helping them at a larger scale.
On the other hand, one of Lypsso's original founders moved across the world to Sydney, from London. When she touched down in Sydney, not only had she never been to Australia before but she also knew no one in her new city she was about to call home. After a few weeks of exploring the city, she was ready for a new haircut and a well needed manicure, but she didn't know which of Sydney's salon to try – there are thousands! Without any friends to ask for advice, she struggled to pick which salon she would visit first. This is when she realised the importance of word of mouth in the beauty industry and without Lypsso to guide her, she was lost to which beauty, hair or organic salon would suit her needs.
So by adding salons to the equation, we found that Lypsso could offer beauty lovers the perfect "all beauty" solution.  Lypsso then became a network where beauty users, professionals and companies could come together to share information and discuss their views and ideas in an open arena.
Lypsso is a portal to link beauty consumers, products, manufacturers and salons. What's your favourite Lypsso story to date of how your site has been of benefit to its users?

My favourite story is hearing from users that Lypsso is a valuable site for them and it's actually helping them solve their beauty needs. It is also very rewarding to know that the brands we feature are proud to be a part of our site.
Here are some of my favourite testimonials from beauty bloggers, Lypsso users and companies:
"If you are a beauty blogger, professional or just interested in finding beauty and salons that offer quality and natural products, pop over and see the new and improved Lypsso.com. It's worth checking Lypsso out first as natural brands are hard to come by." – Tara Bubb (Beauty blogger)
"You have a very good selection of natural brands and products, some of them I didn't know before and I feel very excited to try them out at some point." Ila Coccia (Beauty blogger)
"I will be a regular visitor. It is sometimes a struggle to find brands that will suit my skin & requirements, that aren't chock full of chemicals. Nice to find an ethical website with good ideas!" (Lypsso user)
"Brilliant idea! There are so many more natural products available in other countries than in the UK, or so it seems, but just having the opportunity to chat with other beauty fanatics is a complete bonus." (Lypsso user)
"Thanks for the opportunity to be on your lovely site!" (Natural beauty product company at Lypsso)
We think congratulations are definitely due to you and your team it was great to be at Lypsso's launch party with you, also very empowering all the good feedback that we received for all your lovely guests! It makes the last 18 months/ 14 years worthwhile. (Natural beauty product company at Lypsso)
This feedback makes all the hard work from all the Lypsso team worthwhile!
Lypsso has a specific section for natural and organic products. Have you noticed an increase in interest for natural beauty products and why do you think that is?
Definitely! From my experience since working on Lypsso, I find that the only reason why there aren't more users of natural and organic beauty products, is because they don't have the access to information on the products and brands out there that can meet their skin needs. Prices are no longer an issue, as there are natural and organic products and make up to suit all pockets.
Having said that, trends show that consumers are now more aware of sustainability and beauty ingredients than ever. Growing access to information has allowed regular customers to find out about the possible side effects of some chemical ingredients found in many mainstream beauty products and makeup. They are concerned with what they put on their skin and natural and organic beauty products and makeup now are just as effective as any other products without all the nasties.
We also find that to meet this growing demand for natural and organic beauty, there has been an incredible growth in companies that offer natural and organic cosmetics. There are hundreds (or even thousands) of companies from all over the world working very hard to offer chemical free  and sustainable beauty products and makeup waiting to be found.
Could you share your top 3 natural beauty tips?
Sure! My main beauty concerns are hydrated hair, good-looking skin and exercising. I always try to blog about my beauty concerns on our beauty blog as I think it can be helpful to other readers. My top natural tips would have to be:
For the hair: I have long hair and dry ends.  So for a shiny hair, I use shea butter as a hair mask.
To hydrate my skin:  I make a homemade moisturizing cream with olive oil
Exercising: Feeling good in and out is key for natural beauty. Exercising at least three times a week is a must. As I don't have much time to go to a gym, I follow the perfect training session. It makes me feel good and gives me strength and energy to keep working.
---
I think you'll agree with me when I say that Lypsso sounds like a fabulous website! Thank you to Laura for providing her insight into what is clearly a fabulous interactive beauty portal. I look forward to using it. 🙂