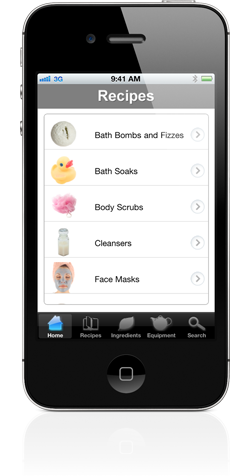 I was recently asked how I come up with the new recipes that I write and add to BeautyCraft app – the natural beauty app for iPhone and iPod touch sold by Herb & Hedgerow. This beauty app currently contains 55 recipes with many more to come over the next few months. If you have a copy of BeautyCraft on your iPhone, iPod touch or iPad, keep checking back in the app or here at the HerbBlurb blog to find out what's new!
I have a lot of fun with the writing process for these app recipes and enjoy coming up with new ideas. The app contains a detailed A-Z of every single one of the ingredients used in the recipes, so I typically start with the A-Z and look at what's available. One of the key criteria for this beauty app is that all of the ingredients have to be relatively easy to find and buy in your local shops, so I sometimes wander around the fruit & veg aisles at my local supermarkets during my lunch breaks for more inspiration. Once I know what's going in the recipe, I start to think about what kind of recipe I want to make.
Perfect Plum Cider Cleanser
Recently I decided I wanted to add in a cleanser that uses plums, which is how I came up with the recipe for the Perfect Plum Cider Cleanser in BeautyCraft beauty app. Plums are packed with antioxidants, which are thought to be great for anti-ageing purposes in skincare. Combined with hydrating honey and exfoliating apple cider vinegar, this Perfect Plum Cider Cleanser is a ruby red fruity treat to gently massage into your delicate facial skin.

[sp_box type="recipe"]
Perfect Plum Cider Cleanser
Ingredients
1 fresh plum, stoned and finely chopped
3 tbsp water
1 tbsp apple cider vinegar
1 tbsp honey
Recipe
Step 1. Halve, stone and finely chop the plum into small pieces.
Step 2. Place the plum in a small pan together with the water, apple cider vinegar and honey. Bring to a gentle simmer and leave for 10 minutes until the plum has started colour the liquid a deep pink.
Step 3. Remove from the heat and blend in a food processor. Leave to cool.
Step 4. Apply the plum cider cleanser to your skin with your fingers and give yourself a gentle facial massage. Wash your face with warm water and a flannel. End your wash with a splash of cold water and then gently dry your face.
Storage and Use – This cleanser can be used as part of your daily cleansing routine although it's best to alternate this with other cleansers given that it contains Apple Cider Vinegar. It can be stored in the fridge for 1-2 days so it's best to make a small batch each time.

This is just one of the many recipes in Herb & Hedgerow's BeautyCraft app – the natural beauty app for iPhone and I hope you'll go on over to the App Store to download your own copy of this fabulous beauty app!
[/sp_box]
One of my most interesting recent moments was designing the foot wrap recipes that are included in the app. My photographer was away so I had to take my own photos that day. I made the recipe, massaged the mask all over my foot and then wrapped up my foot with clingfilm. I needed to take a photograph of my finished wrapped foot but realised that I'd left the towel on the other side of the room in order to wipe my hands and handle the camera. My photographer's absence then meant that I had to hop across the room on one leg to get to the towel. This normally wouldn't have posed a problem except I was 5 months pregnant at the time and hopping during the second trimester is not easily done! 🙂